Metalline® Revo-Line-W
Revolving Socket System With Wireless Charger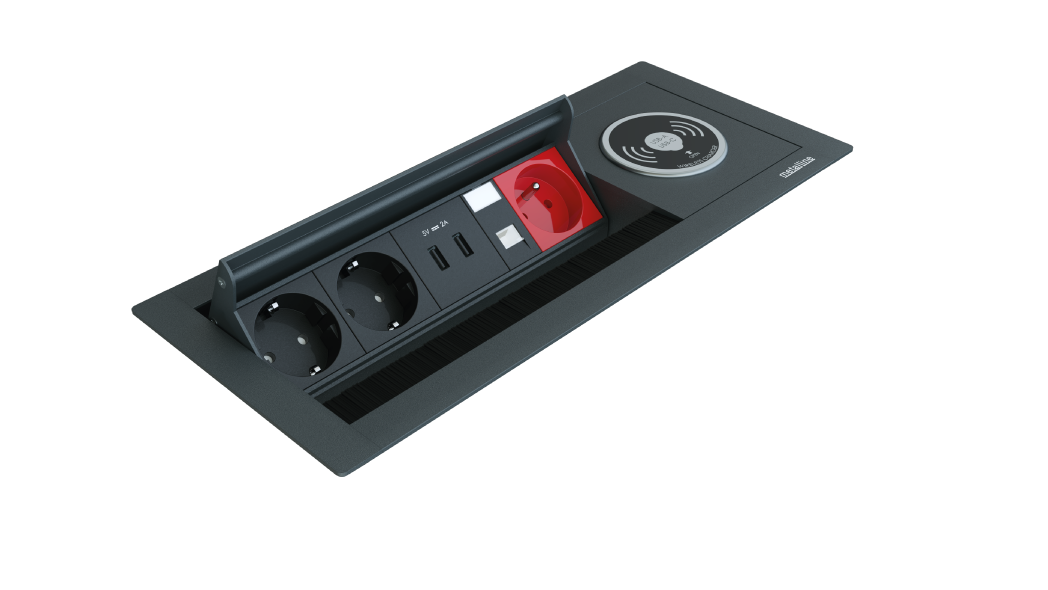 Revolving Socket System With Wireless Charger
Revo-Line will give your desk a new identity to your work and meeting desks with power sockets and wireless charger in one product. 15W quick wireless charging feature allows you to charge your without a cable and Revo-Line also allows you to reach your power sockets with a simple touch whenever you need.
ulaşabilirsiniz.
Revolving Socket System With Wireless Charger; It is produced with 6000 series aluminum, which provides very high protection against both physical external effects such as crushing or scratching, and external chemical effects such as corrosion. You can choose either matte anodized, matte champagne anodized or black color suitable for your office concept.
Rich Power Module Options
REVO-LINE-W provides integrated solutions to your home and office furniture, to your meeting tables.REVO-LINE-W in-desk socket system with push-to-open lid allows you to customize your power modules in order to your needs. POWER SOCKET, USB CHARGER, USB DATA, HDMI, UPS, CAT3, CAT5, CAT6, VGA, etc. You can choose any of these modular ports and create your socket box according to your personal use preference. All power modules we use as Metalline are in accordance with world standards and the necessary certifications have been completed.
Revo-Line-W Revolving Socket System With Wireless Charger

Metalline which is offering modern creative solutions for all your collaborative workspaces, thats offers great power socket solutions for workfields that need power. Providing unlimited power and customizable content experience, Metalline provides integrated solutions to your home, office and other living spaces with its Revo-Line-W e models.

Metalline designs, manufactures and develops.

The Metalline ® REVO-LINE-W can be installed almost anywhere thanks to its simple installation and ease of use. Whether you need your office furniture, meeting tables, or home, school, hospital, etc. it offers safe solutions for all work areas with various receptacles.  

While Metalline creates solutions for sustainable office environments, they focus on people and their needs, creating a productive and communicative environment and respecting nature's limited resources.
Metalline®
Metalline® Revolving Socket System With Wireless Charger; is an elegant based solution for all workspaces that need to be consolidated by power, data and multimedia. It ensures almost unlimited flexibility with its modular structure, which offers ease of use in all fields.